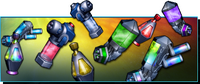 Unstable Iso-8 can be used to level up your heroes. Empowering heroes with Unstable Iso-8 also costs Silver.
Each color matches a class and provides a 50% bonus when used on that class. Prismatic recepticles have a bonus when applied to any class.
Types of Unstable Iso-8Edit
Unstable Iso-8 Recepticle
XP added: 25000 XP
Cost: 1000 Silver
Unstable Iso-8 Canister
XP added: 8000 XP
Cost: 500 Silver
Unstable Iso-8 Cartridge
XP added: 2000 XP
Cost: 250 Silver
Unstable Iso-8 Capsule
XP added: 600 XP
Cost: 125 Silver
Unstable Iso-8 Sample
XP added: 250 XP
Cost: 90 Silver
Ad blocker interference detected!
Wikia is a free-to-use site that makes money from advertising. We have a modified experience for viewers using ad blockers

Wikia is not accessible if you've made further modifications. Remove the custom ad blocker rule(s) and the page will load as expected.