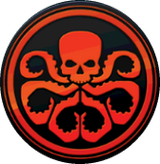 The rogue Nazi super-science division has come a long way since the days of World War II. Still setting their sights on global domination, Hydra is among the most pernicious and ruthless organizations on the planet. Considered by many to be S.H.I.E.L.D.'s primary nemesis, Hydra and its genocidal machinations seem near impossible to stamp out completely. Cut off one head and two more always take its place.

Hydra FourEdit
"Hydra Grunts are so loyal they will sacrifice themselves for the cause, but first their Scrappers will leave foes Clobbered, their Tacticians will heal allies, and their Infiltrators will unload a hail of Wounding fire."
Related-Items
Edit
Many Heads
Ad blocker interference detected!
Wikia is a free-to-use site that makes money from advertising. We have a modified experience for viewers using ad blockers

Wikia is not accessible if you've made further modifications. Remove the custom ad blocker rule(s) and the page will load as expected.