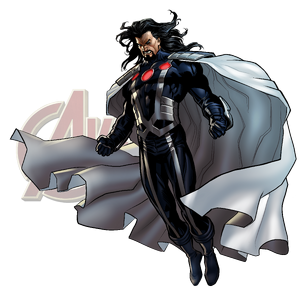 "A miscalculation in over-zealous physicist Franklin Hall's experiment resulted in his exposure to a blast of particles. Attaining the ability to manipulate the fundamental force of gravity, the eponymous Graviton soon turned his omega-level powers to his own, maniacal gain."
Class:
Organisations:
A.I.M.
Story AppearanceEdit

Chapter 2 - A.I.M. For the Stars

Chapter 3 - Middle of Knowhere
Note: These are his stats at Level 37 ****
Health: 9675
Attack: 4480
Defense: 3870
Speed: 3463
Accuracy:
Evasion: 3665
| Passive | Effect |
| --- | --- |
| Super Villain | Takes turns faster |
| Shield | Restores Shields quickly over time |
Chapter 2, Mission 4Edit
| Character | Dialogue |
| --- | --- |
| | The Invasion of A.I.M. Island ends now! |
| | Oh, hey T'Challa, nice of you to join us. I think you're just in time for something really awful. |
| | Captain Marvel thought you might need some extra assistance. It looks as though she was not in error. |
He is one of the many villains in Marvel Avengers Alliance 2, that have yet to appear in the game's predecessor.
There is a spelling error in his Shield passive's description, it is spelt 'Shieldls' instead of 'Shields'.
Ad blocker interference detected!
Wikia is a free-to-use site that makes money from advertising. We have a modified experience for viewers using ad blockers

Wikia is not accessible if you've made further modifications. Remove the custom ad blocker rule(s) and the page will load as expected.