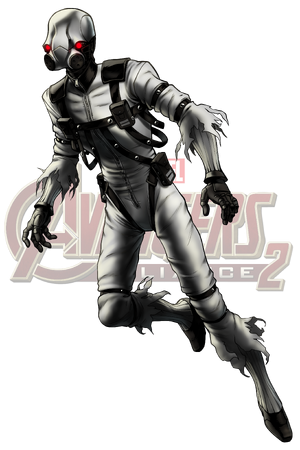 "A master of infiltration, employing both invisibility and phasing technology that allows him to pass through solid walls, Ghost is as enigmatic as his name would suggest. A top-notch hired gun specializing in corporate espionage, not much else is known about the mysterious man in white."
Class:

Organisations: Mercenary
Story AppearanceEdit
Chapter 2 - A.I.M. For the Stars

Spec Op 01: Matter & Ant-Matter
Note: These are the stats at Level XX ****

| Name | Description | Effect | Notes |
| --- | --- | --- | --- |
| Intangible | Removes Revealed at the start of each turn. | | |
| Super Villain | Takes turns faster. | | |
"Thanks to his Intangibility, when Ghost starts Stealthy, he's hard to uncover, and that's just how he likes it. He delivers sneak attacks and Anson bombs while cloaked, setting foes up for sudden and intense damage."