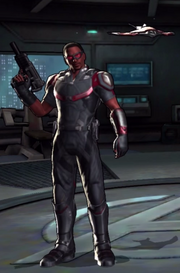 "A former air force para-rescue specialist, Sam Wilson has since retired from the military to pursue a new mission, closer to his heart--being an Avenger. Using an advanced jump pack with light-weight, collapsible wings, Sam is an agile aerial combatant. Loyal to his best friend Steve Rogers, Sam is prepared to follow Cap's unparalleled leadership--no matter how dangerous the path may be."
Story AppearanceEdit
Spec Op 02: Captain America: Civil War
Organisations:
Note: These are the stats at Level 30 ***

"Falcon uses his unique winged jump pack and more traditional weapons to overwhelm enemies with nimble aerial attacks. His Redwing drone acts as a force multiplier, making Falcon the match of any villain that crosses his path."
Ad blocker interference detected!
Wikia is a free-to-use site that makes money from advertising. We have a modified experience for viewers using ad blockers

Wikia is not accessible if you've made further modifications. Remove the custom ad blocker rule(s) and the page will load as expected.