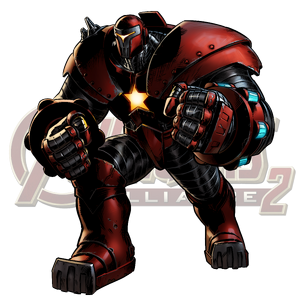 "A longtime rival of Tony Stark's, Russian inventor Anton Vanko created his suit of Crimson Dynamo armor to go toe-to-toe with Tony's Iron Man suit. Though less refined in some aspects, Dynamo makes up for in raw power what he lacks in finesse."
Organisations:
Story AppearanceEdit
Chapter 2 - A.I.M. For the Stars
Note: These are the stats at Level XX ****

| Name | Target | Damage | Type | Effect/s |
| --- | --- | --- | --- | --- |
| | | | | |
"The Crimson Dynamo armor is incredibly tough, letting Anton Vanko shrug off many direct attacks. When he returns fire with rocket-powered punches and energy blasts, heroes will be left Exposed and Dazed."
Ad blocker interference detected!
Wikia is a free-to-use site that makes money from advertising. We have a modified experience for viewers using ad blockers

Wikia is not accessible if you've made further modifications. Remove the custom ad blocker rule(s) and the page will load as expected.