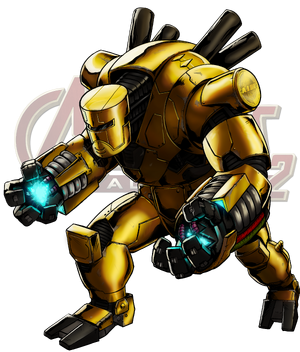 "A.I.M.'s latest mark of powered armor is well beyond what anyone else on the planet can produce, save perhaps Tony Stark. The sharp minds at A.I.M. have set their sights on the Iron Man design, and with every new model they close the gap a little bit more. Incorporating elements of stolen Stark Tech, A.I.M. armors are always a danger in the field".
Organisations:
A.I.M.
Story AppearanceEdit
Chapter 2 - A.I.M. For the Stars

Chapter 3 - Middle of Knowhere
Note: These are the stats at Level XX ****

Ad blocker interference detected!
Wikia is a free-to-use site that makes money from advertising. We have a modified experience for viewers using ad blockers

Wikia is not accessible if you've made further modifications. Remove the custom ad blocker rule(s) and the page will load as expected.